China's farmers protest a key Mao tenet
Peasants want to own their land and have organized rallies in several provinces. More are planned.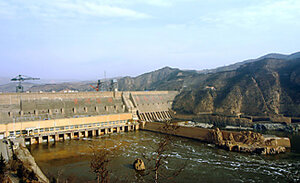 Feature China/zhang xiaoli/newscom
The snowy, fogbound fields around this village in central China do not look like a battlefield. But in recent weeks they have become a flash point in a spreading peasants' revolt against one of the key aspects of Communist Party rule: state ownership of farmland.
"My ancestors bought this land" before the 1949 Communist revolution, says Cheng Zhenhai, a grizzled cotton farmer huddling close to the stove in his dimly lit one-room home, "so I have to keep it. As a peasant, I want nothing else."
Mr. Cheng was one of more than 10,000 peasants in Shaanxi Province who signed a public letter last month renouncing the collective land-ownership system that has governed China's countryside for the past half century and declaring the land they farm to be their private property. At about the same time, farmers in four other provinces signed similar declarations that appeared on the Internet.
The statements represent only a theoretical change, since farmers are powerless to reform the law and local authorities have cracked down hard by arresting ringleaders of the nascent movement. But some observers suggest that if protests gather steam, they could spark radical changes.
"It could be a revolution," says Hu Xingdou, an economics professor at the Beijing Institute of Technology. "Privatization of land is a foundation of democracy and the rule of law in China, because land is a basic resource."
---