Divided, Thailand eyes ruling party's first steps
The majority coalition is expected to name a controversial prime minister.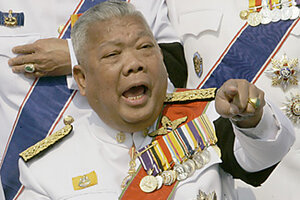 Apichart Weerawong/AP
After two years of upheaval, including prolonged street protests, a botched election, and a military coup, Thailand is edging back toward a degree of political normalcy. But the bitter rivalries exposed by the coup and the polarization between voters in rural and urban areas may prove hard to heal.
Lawmakers chosen in Dec. 23 elections held under a new junta-dictated constitution will convene soon to select a prime minister. Samak Sundaravej, leader of the People Power's Party (PPP), is widely expected to win, allowing him to form a government under a six-party coalition that has a comfortable majority in the 480-seat parliament.
In a snub to the junta, Thai voters last month handed a solid victory to the PPP, a political vehicle for the return of exiled former Prime Minister Thaksin Shinawatra, who was ousted in the 2006 coup. Efforts to overturn the results in the courts have since fizzled, leaving crestfallen coup leaders little choice but to disband, hand over power, and slip away, largely unmourned by a public weary of their ham-fisted ways.
"They botched the coup. They lost credibility and legitimacy from their mismanagement," says Thitinan Pongsudhirak, director of the Institute of Security and International Studies at Chulalongkorn University in Bangkok. A key reason was that a consumption-driven economy responded poorly to the prodding of the junta's loyalists, slowing growth and driving away investors. "Thailand has changed a lot. The military's mind-set has stayed the same," he adds.
---