China's response to snow crisis: greater openness, support
Going beyond deploying troops to manage crowds, officials have fanned out across snowstorm-hit areas to reassure residents.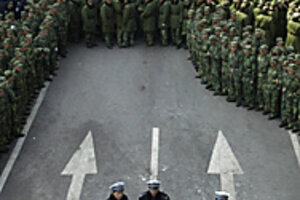 Daniel Chan/Reuters
As southern China enters its third week of freak snowstorms and plunging temperatures, government leaders have been falling over themselves to be seen on the front lines of disaster relief, consoling victims and encouraging repair men.
In a highly unusual concerted display of public concern, four members of the powerful Standing Committee of the ruling Communist party, led by Prime Minister Wen Jiabao, have fanned out across the affected areas in recent days to assure residents that the authorities will soon restore power, water, and transport.
"I want to tell everybody that we have the confidence, courage, and capacity to combat this severe natural disaster," Mr. Wen said Feb. 2 while visiting the badly hit Hunan Province for the second time in a week.
"It is an important political gesture," says Steve Tsang, a China watcher at Oxford University in England. It altered the tone of the government's initial reaction to the disaster, which had been to deploy the army to control potential unrest among millions of stranded train passengers.
And it appears to be paying off, for the time being. Despite those travelers' anger and disappointment and the extreme discomfort of millions more living without electricity, the government appears to enjoy a general sense of understanding among the citizenry.
---