Ruling to protect dugong could put Northern Okinawa aid at risk
A federal judge said a US military base proposed for the depressed area must evaluate impact on the marine mammal.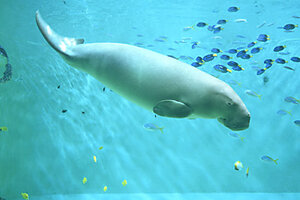 COURTESY OF TOBA AQUARIUM
A recent ruling against the US Defense Department ordering compliance with the National Historic Preservation Act on a proposed military base in Okinawa could harm US realignment plans – and cause considerable economic loss in the northern part of the Japanese island.
A federal judge in San Francisco ruled in January that the Defense Department violated the NHPA since it failed to consider the impact of the proposed base on an endangered marine mammal. US District Judge Marilyn Hall Patel told the military to submit documentation within 90 days to evaluate the potential consequences for the Okinawa dugong.
A change in construction plans could mean a suspension of related government aid to economically depressed northern Okinawa. The average annual salary there is $30,631, according to 2006 figures, far below the national average of $45,730. Such aid was already suspended once last year, a result of frustration in Tokyo over the sluggish pace of progress on the base.
Okinawa hosts Marine Corps Air Station Futenma – and more than half the 35,000 US troops stationed in Japan. About 75 percent of the military's exclusive-use facilities in Japan are in Okinawa.
In the late 1990s, Okinawa and the city of Nago agreed to put up a replacement facility on the east coast of the city in exchange for programs worth more than $900 million over 10 years. Since then, Nago has been awash in government subsidies, tax breaks, and other perks. The government, for example, chose the city, 1,000 miles southwest of Tokyo, as a main venue of the 2000 summit meeting of major industrialized nations. Sparsely populated parts of Nago have been transformed by the rise of plush buildings. Tokyo spent more than $90 million to open the Okinawa National College of Technology in 2004, located in front of US Marine Corps Camp Schwab, where the US and Japan plan to build the replacement facility. Some $38 million funded three "intelligent buildings" that hold 16 companies and employ 429 workers. Last year, an $8-million community center opened.
---