Burma's censors monitor Internet, newspapers - and poets
The regime has watched the media more closely since last September's uprising by monks.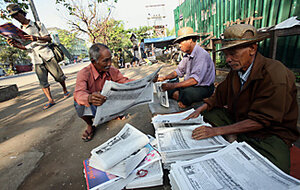 Khin Maung Win/AFP/Getty images
Saw Wai is a Burmese poet known for his love songs. His eight-line Valentine's Day ode, about a brokenhearted man in love with a fashion model, was a particularly tender one. But there was one problem.
If read vertically, the first word of each line formed the phrase: "Power Crazy Senior General Than Shwe."
The senior general himself, head of Burma's (Myanmar's) military junta, could not have been amused. The head of the censorship board was urgently called to the capital; the weekly "Love Journal" has been shut down and copies of the offending edition were yanked from newsstands.
Saw Wai is now in jail, where apparently he will spend Feb. 14 in isolation, behind bars.
Extreme government censorship is as much a part of life in today's Burma as rice and pagodas. Everything from TV programs to newspaper ads goes through a rigorous vetting board. But the junta is fighting a losing battle against a population hungry for information, armed with tools ranging from transistor radios to sneaky editors and myriad ways to bypass blocks on Internet sites.
Since last September's monk uprising, the censorship has increased. And criticism of the ruling junta is not all that is wiped out – so is most bad news, including reports on natural disasters and defeats of the national soccer team. Even good news can be cut if it's about countries out of favor with the government.
---