No feat too minor for Malaysia's record breakers
From ultra-long hula hoop sessions to living in a glass cage with scorpions, Malaysians are piling up world's-best titles.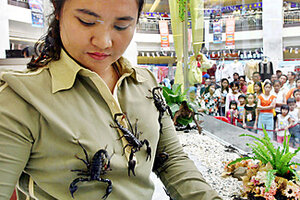 Reuters
The tallest pencil. The fastest pizza eater. The longest nonstop escalator walk.
When it comes to breaking records, it's hard to beat Malaysia. Almost no feat is too minor or outlandish for the Malaysian Book of Records, a biannual compendium of more than 2,000 national achievements that is a riposte of sorts to the gate-keepers of Guinness World Records. Barely a week goes by without another record-breaking attempt on local TV.
For a nation of 27 million people keen to punch above its weight, this frenzy of firsts and bests is a source of pride, even if urban sophisticates groan at its mention. Government ministers oversee record-breaking bids, lending an official seal of approval, though none made it through the longest underwater checkers marathon (70 games played over 24 hours).
Malaysians trace their zeal for records to the go-getting 1990s when former Prime Minister Mahathir Mohamad coined the slogan "Malaysia Boleh!" (Malaysia Can!) to hustle the country forward. He ramped up economic growth, erected the world's tallest building – the 1,482-foot Petronas twin towers – and predicted that Malaysia would be a first-world country by 2020 if it kept reaching for the sky.
The Asian financial crisis in 1998 clipped Malaysia's wings, though, and Taiwan's Taipei 101 has since sneaked past Kuala Lumpur on the skyscraper charts. Mr. Mahathir retired in 2003, and the breakneck growth of the 1990s has proved hard to emulate as China thunders past Malaysia and its Southeast Asian neighbors.
---