Australia to apologize to Aborigines for injustice: how helpful?
Prime Minister Kevin Rudd says the gesture will remove a "blight on the nation's soul."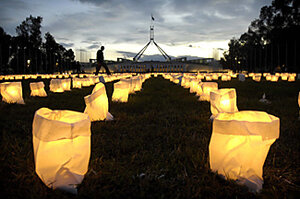 Mark Graham/AP
Aborigines who were taken from their families as children in a policy of forced racial assimilation will receive a historic apology from Australia's new government Wednesday.
In what will be the first parliamentary act of his government, center-left prime minister Kevin Rudd will fulfill an election campaign promise when he stands up in parliament in Canberra, the capital, and says sorry to the so-called Stolen Generation. The Labor leader said the apology would remove a "blight on the nation's soul" and had the overwhelming support of Australians.
Supporters say it is of similar magnitude to America's apology in 1988 for interning Japanese citizens during World War II.
Mr. Rudd's speech will be shown on giant outdoor screens in Australia's two largest cities, Melbourne and Sydney, and aired live on two national television networks. The red, black, and gold Aboriginal flag will fly from landmarks across the country, including Sydney's iconic Harbor Bridge.
About 13,000 people today identify themselves as either members of the Stolen Generation or relatives who were adversely affected by the long-standing policy. Based on the premise that "full-blood" Aborigines were a race headed for extinction, up to 100,000 mixed-race children were taken from their parents between 1910 and 1970. The children, some of them babies, were often snatched from sobbing mothers by policemen or government officials.
---