Burma's junta promises democracy, but most are wary
The government's surprise announcement to hold a constitutional referendum is being met with deep skepticism.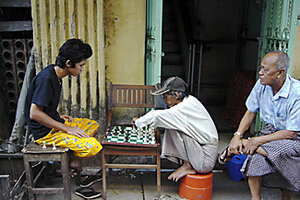 Danna Harman
The elderly monk is nervous. He paces the room, leans over an old TV set and slips in a "Tom and Jerry" DVD, raising the volume to an uncomfortable pitch. He peers out one window and then the next, fidgeting. He sits down, gets up again. Finally, he talks. But after all that, there is not much to say.
The Burmese military junta's surprise announcement last week that it would hold a referendum on the still secret Constitution this May, setting the stage for elections in 2010, is being greeted – in a country long used to broken promises and tricky maneuvers – mainly with suspicion.
Many say they are not holding out hope for a government-led transition to democracy. But nor do they believe a new outpouring into the streets is imminent. "Change," says the elderly monk, speaking anonymously for security reasons, "will take a long time in coming."
Dozens of interviews with monks and opposition members – both inside and outside Burma (Myanmar) – paint a picture of a nation suffering from a dire economic situation and at the tail end of its characteristic patience with the military government. But it's also a nation that feels it lacks both the means to rise up or a leader to guide a revolution.
The announcement marks the first time the government has set dates to carry out stages of its so-called road map to democracy. And the elections, if held, would be the first since 1990, when Nobel Peace Prize Laureate Aung San Suu Kyi's opposition National League for Democracy (NLD) won in a landslide. But the results of that vote were ignored by the junta, and the occasion was used to scrap the old Constitution and place Ms. Suu Kyi under house arrest, where she remains today – not a confidence inspiring precedent.
---