Can Rice (and music) restart North Korea nuclear deal?
U.S. Secretary of State Rice visits Asia to boost the six-party deal, N.Y. Philharmonic plays in Pyongyang.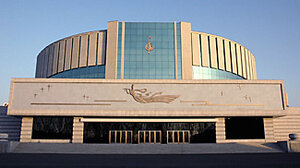 Korean news service/ap
The Korean peninsula approaches a potential turning point this week, today with the inauguration of conservative former business leader Lee Myung Bak as president of South Korea and, tomorrow, the first-ever performance by the New York Philharmonic Orchestra in the North Korean capital of Pyongyang.
With US Secretary of State Condoleezza Rice visiting Seoul, both events are being watched for their impact on the stalled agreement to end North Korea's nuclear program.
As the Bush administration moves into its final year, Ms. Rice may have few, if any, opportunities left to overcome stumbling blocks that have undermined the sense of progress engendered by the signing of the six-nation agreement a year ago.
After attending the inauguration here, Rice flies to Beijing and Tokyo. She will prod leaders in all three capitals to move swiftly to get North Korea to fulfill its promise to reveal all its nuclear activities, including its nuclear inventory and its dealings with countries such as Iran and Syria.
---