On Thai border, a rare refuge for Burmese children
Dulci Donata opened Home of Joy to serve ethnic minorities fleeing violence.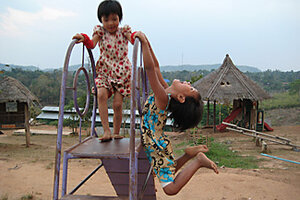 Simon Montlake
In a whitewashed office, a young Burmese mother cradles a sleeping baby. Ni Lar Win is waiting to hear if she can leave her 2-month-old son at the "House on the Hill" in this Thai border town.
Her husband left six months into her pregnancy, she says, and now she wants to move to the city for work, so she can repay some debts and help her sick mother. That means finding someone to take in her newborn. So Ni Lar Win has come to find the foreigner at Baan Unrak (Home of Joy) to ask if there's room for her son, at least for a while. "I heard it's good for children here. They can stay here and study. There's no need to worry."
Ni Lar Win's plight is one Dulci Donata hears of often: debt, poverty, illness – and an unwanted child. In 1991, Ms. Donata founded Home of Joy as a sanctuary for destitute kids, mostly ethnic minorities fleeing war and political upheaval in Burma (Myanmar). Now, she has more than 140 children in her care, crowding a three-story building on a hillside above a steep ravine.
But Donata proposes something else: Ni Lar Win should take a job at Home of Joy and bring her mother and baby to live there.
As Ni Lar Win, an ethnic Mon, heads back to her village to consider the offer, Donata explains that by taking in struggling single mothers, she hopes to keep mothers and children together and help the mothers to rebuild their lives. Most children here aren't strictly orphans, but are born into broken, demoralized families. "To serve mothers is to serve babies," she says.
---