Tibet unrest deepens, with violence and rioting
Tibetans threw stones at Chinese troops and set fire to buildings Friday.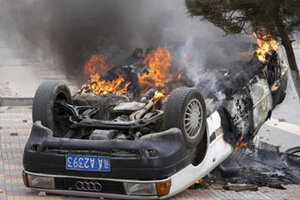 REUTERS
Some 1,500 Tibetans engaged in street fighting with several hundred armed police as unrest intensified in the Tibetan capital of Lhasa, according to a group of foreign backpackers who witnessed rioting Friday in which protesters targeted Han Chinese and Muslims known as Hui.
"An empty PLA [People's Liberation Army] convoy pulled through" Beijing Street, the main thoroughfare just north of Barkhor Square in central Lhasa, said Ken on his "kadfly" blog. He, along with others in his group who asked to be identified only by their first name, sent out reports on e-mail and by phone throughout the day. "Maybe 100 meters farther, there was a massive crowd of Tibetans surrounding a narrow alleyway. As it turned out, they were throwing stones and hurling abuse at PLA soldiers who were blockading the passage to a monastery. After a minute or two, everyone rushed the PLA blockade and burst through. The soldiers left parts of their riot gear lying around and Tibetans started breaking them."
The unrest this week was triggered Monday by the arrest of monks who had marched from Drepung monastery in western Lhasa toward the Potala Palace, home of the exiled Dalai Llama, to commemorate the 49th anniversary of a failed uprising against Chinese rule. By Tuesday, ordinary Tibetans had joined a street protest outside Sera monastery, demanding that the monks be released. Thursday, reports from Lhasa said Chinese troops were surrounding major monasteries, forcing the monks inside, and by Friday, the protests turned violent.
---