China's crackdown reaches beyond Tibet
At Repkong monastery in central China, monks see more police.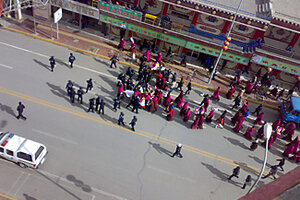 REUTERS
Squatting in one of the the courtyards of this ancient Tibetan Buddhist monastery, gathering his scarlet robes around him against the afternoon chill, the young monk spoke softly.
"We are all very nervous," he said simply.
For the past three weeks, he explained, since police violently dispersed a protest by monks and lay Tibetans in this remote town in central China, Repkong monastery's neighborhood has been swarming with plainsclothes and militarized police.
Last week's violence in Lhasa and other Tibetan areas has only heightened the surveillance, monks here said, prompting most of them to return home and the rest to stay within the monastery walls.
Sunday, Tongren's streets were full of police cars, while militarized police troop trucks parked ostentatiously on one of the small town's main thoroughfares.
The heavy security here reflected a massive effort by the Chinese government to prevent Tibetan resentment from spilling too far over from Lhasa, the capital of the Tibetan Autonomous Region, into areas of central China where large Tibetan minorities live, such as Qinghai Province, to which Tongren belongs.
In the nearby town of Xiahe, in neighboring Gansu Province, the site of another important Buddhist monastery, reports said police were using armored personnel carriers and large bodies of troops marching in lock-step formation to quell unrest.
All foreigners traveling on the road from Lanzhou, the capital of Gansu, were stopped by police 100 miles from Xiahe on Saturday night, although some reporters managed to slip into the town before the roadblocks were established.
---