High-level talks keep North Korea nuclear deal alive
Last week's meeting generated talk of a secret side deal to end an 11-week impasse.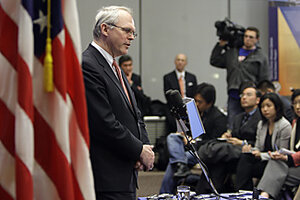 Martial Trezzini/Kestone/AP
Separate agreements – one open, the other secret – may be critical to bringing the US and North Korea to terms on the disclosure of the North's nuclear program, after two days of what US envoy Christopher Hill says were "substantive" talks in Geneva with his North Korean counterpart, Kim Kye Gwan.
Although no deal was reached, the meetings were the most detailed since the nuclear process reached an impasse in December. In a sign of the North's eagerness to talk, Mr. Kim asked to see Mr. Hill in Geneva after failing to meet him as expected in Beijing the weekend after the New York Philharmonic's performance in Pyongyang on Feb. 25.
Mr. Hill said he and Mr. Kim covered just about every possible aspect of the nuclear issue, notably the crucial question of the North's efforts to develop nuclear warheads with uranium at their core.
Kim, however, is sticking to denials of the existence of the program and of charges that the North has exported nuclear aid and material to Syria, Iran, or any other client state.
Mid-level US diplomats remained in Geneva after talks before the weekend that Hill says were "very substantive discussions on format and actual substance that has divided us for 10 weeks" – since the end of last year when North Korea was to have come up with a full declaration of everything in its nuclear inventory.
---