China blocks YouTube, reporters over Tibet news
Broad Internet controls have blocked YouTube and most chat rooms.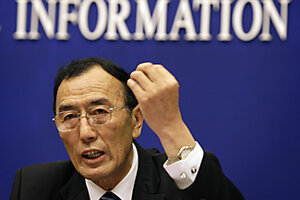 Oded Balilty/AP
The Chinese government's overriding priority for the past week has clearly been to quell unrest among its Tibetan citizens. But the authorities have also made exhaustive efforts to ensure that as few people as possible, inside or outside China, hear any but the official version of that unrest.
Foreign journalists have been banned from traveling to Tibet and prevented by the police from reporting on protests by Tibetans in other Chinese provinces. Domestic newspapers, TV programs, and Internet sites have carried only articles produced by the official Xinhua news agency. News reports on international TV networks such as CNN and the BBC have been blacked out by censors.
The policy marks a sharp setback for moves the Chinese government had been making recently to be more open. In particular, the way foreign reporters have been prevented from reaching the scenes of protests runs counter to regulations introduced last year that were designed to ensure free reporting, in line with a promise the Chinese made to the International Olympic Committee.
"The foreign media's inability to conduct first-hand reporting is a very black mark tarnishing the government's promise," says Melinda Liu, president of the Foreign Correspondents' Club of China. The recent unrest was "a test" of the regulations, she added, "and in the last few days the government has got an 'F.' "
'Go no farther'
This reporter was stopped by police at a highway tollbooth on Saturday evening and told he could go no farther toward the town of Xiahe, in Gansu Province, where Tibetans had been demonstrating against the government.
---