Nauru scrambles as Australia closes island's detention center
The tiny Pacific island is losing a key source of income.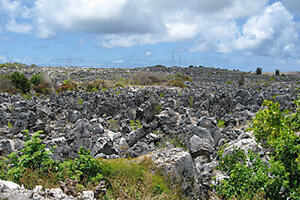 Nick Squires
It is the world's smallest republic – so small, it does not boast a capital or a currency. Covering eight square miles, it can be driven around in 20 minutes.
But Nauru – a coral speck halfway between Hawaii and Australia – is wrestling with huge problems.
Exploitation of its sole natural resource, phosphate, has left the island's interior a ravaged moonscape of coral spikes. It has colossal debts and little prospect of repaying them. Its people are among the most overweight in the world. And now, to cap it all, its economic lifeline – an Australian-run refugee detention center – is about to close, focusing new attention on how to boost the once-prosperous island's fortunes.
The camp dates to 2001, when then-Australian Prime Minister John Howard cast around for a place to consign asylum seekers whose boats were being intercepted trying to reach Australia from Indonesia.
Nauru, desperate for cash, agreed to host a detention camp. It was an economic boon, bringing jobs and dollars from Australian police, officials, and contractors.
The facility pumped so much money into Nauru's economy that it soon came to account for a fifth of the nation's revenue.
But Mr. Howard's conservative government was turned out in November, and his successor, Labor Prime Minister Kevin Rudd, is about to fulfill a preelection pledge. The detention center will be mothballed by the end of this month.
"In dollar terms we're looking at a very substantial proportion of our economy," says Nauru's newly elected president, Marcus Stephen, a former champion weight lifter who competed internationally. "It will affect local businesses, our airline, our hotel … everything."
---