Grain prices soar globally
Rice shortages are appearing across Asia. In Egypt, the Army is now baking bread to curb food riots.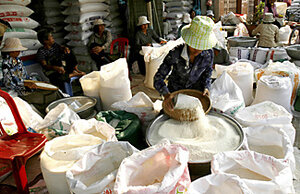 Heng sinith/AP
Rice farmers here are staying awake in shifts at night to guard their fields from thieves. In Peru, shortages of wheat flour are prompting the military to make bread with potato flour, a native crop. In Egypt, Cameroon, and Burkina Faso food riots have broken out in the past week.
Around the world, governments and aid groups are grappling with the escalating cost of basic grains. In December, 37 countries faced a food crisis, reports the UN Food and Agricultural Organization (FAO), and 20 nations had imposed some form of food-price controls.
In Asia, where rice is on every plate, prices are shooting up almost daily. Premium Thai fragrant rice now costs $900 per ton, a nearly 30 percent rise from a month ago.
Exporters say the price could eclipse $1,000 per ton by June. Similarly, prices of white rice have climbed about 50 percent since January to $600 per ton and are projected to jump another 40 percent to $800 per ton in April.
The skyrocketing prices have prompted millers to default on rice supply contracts and bandits to steal rice as they aim to hoard the crop, and sell it later, as prices continue to rise.
"The farmers are afraid as their fields have been robbed in the nighttime," says Sarayouth Phumithon, an official at the Thai government's Bureau of Rice Strategy and Supply. "This is just the beginning. The problem will get worse if the price keeps increasing."
---