Afghan opposition courts Taliban
Talks began in 2007, a powerful coalition revealed last week. Experts say the move, an effort to undercut the government, could draw Taliban into the political process.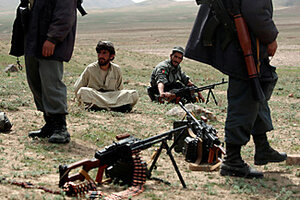 Goran Tomasevic/Reuters
The country's most powerful opposition group announced last week that they have been engaging in peace talks with the Taliban. The move signals both the growing divisions within the Afghan government and the increasing possibility that elements of the insurgent group could be drawn into the political process, say analysts.
If successful, officials argue that the talks will change the way the United States deals with Afghanistan, by forcing Washington to contend with the opposition.
Representatives of the United National Front – an assemblage of ministers, members of parliament, and warlords led by former Northern Alliance commanders – say they have held secret talks with the Taliban for at least five months.
"Leaders of some Taliban sections contacted us," says Front spokesman Sayyid Agha Hussein Fazel Sancharaki, "saying, 'We are both Muslims, we are both Afghans, and we are both not satisfied with the government's performance.' "
The government, which has had a series of secret talks with the "moderate Taliban" since 2003, has in contrast taken a different approach to negotiations. It insists that the Taliban must first surrender completely – disavow armed insurrection and accept the foreign presence.
---