Chinese vent anti-Western fury online
Bloggers are now calling for boycotts and stoking death threats over perceived insults from Westerners who have criticized China's human rights record ahead of this summer's Olympic Games.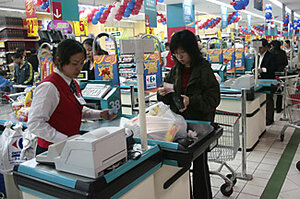 Sean Yong
A violent storm of nationalist indignation is roiling the Chinese internet, as bloggers vent their anger at perceived Western insults in the wake of the Tibetan uprising last month.
Simmering resentment at the way the Olympic torch relay was treated by pro-Tibet demonstrators in London and Paris has boiled over this week into invective against a CNN commentator, a French supermarket chain, and Nancy Pelosi, speaker of the US House of Representatives.
The government, which keeps a close eye on Internet debate through censors who delete unapproved comment, has given the campaign free rein. Indeed it has added its voice to the angry chorus, which some observers say echoes ancient resentments.
"This has deep historical resonance," says Kenneth Lieberthal, a political science professor at the University of Michigan. Now that China has regained the international stature it ceded 150 years ago to Western powers, he says, the country's leaders harbor suspicions that "the West is trying to humiliate them again."
---