For many U.S. athletes, an Olympics boycott is out
Olympic hopefuls gathered in Chicago this week say that boycotts do not work. Athletes who were unable to compete in 1980 concur.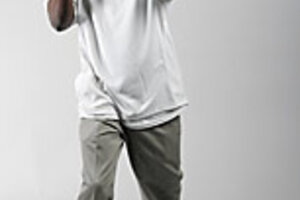 Frank Polich/Reuters
With the torch relay besieged by protesters and world leaders increasingly critical of Olympic host-nation China, the past month has marked the largest political challenge in a generation for the Olympic movement.
But frankly, it's not much more than background noise for gymnast Paul Hamm. In trying to make the Olympic team, he's got plenty to cope with already.
"What's going on is important and we should pay attention to it," says the 2004 all-around gold medalist. "But on the other hand … we need to be athletes first."
In 1980, that didn't happen. American athletes were forced to boycott the Moscow Games in protest against the Soviet invasion of Afghanistan. Today, there have been no major calls for a boycott. That is significant, given the pressure to take China to task for its human rights record. It suggests that the world has drawn from the 1980 boycott the conclusion that Olympic boycotts don't work.
"The lesson taken from the boycott is that the only people who suffer are the athletes," says David Wallechinsky, an Olympic historian.
This is a relief to American Olympic hopefuls gathered here in Chicago this week for a media summit. Among them, many plead ignorance, saying that amid six-hour-a-day training sessions and the crush of the approaching Olympic trials, whatever spare time they can muster is spent in a vegetative state. Others appreciate the message protesters are trying to make.
---