Eye on China, India safeguards Olympic torch
15,000 security personnel shielded the Olympic torch on its truncated tour in New Delhi Thursday. Thousands of pro-Tibet protesters were kept from the route.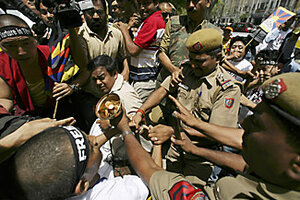 Saurabh Das
Amid vise-tight security, runners carried the Olympic flame Thursday through the near silent, closed-down center of New Delhi.
This leg of the global torch relay – which returned to Asia Wednesday after tumultuous runs in the West, followed by smooth tours in Latin America, Africa, and the Middle East – was especially sensitive. India, home to the world's largest community of exiled Tibetans, has had to balance its democratic tradition of protest and its desire to please its powerful neighbor, a concern that weighs more heavily on the flame's host countries the nearer they are to China.
Fears that Tibetan protesters would disrupt the relay meant it was effectively invisible to the Indian public, who were kept away by a series of security blockades and the closure of surrounding roads.
Indeed, the only people present to cheer the torch were a few hundred obedient schoolchildren, bused in wearing the red T-shirts of an Olympic sponsor, Coca-Cola.
They were heavily outnumbered by police: 15,000 police and military personnel were deployed around the capital on Thursday.
Even the route was truncated. In the days before the event, as fears for the safety of the torch grew, officials from the Indian Olympics Association (IOA) snipped the planned route by one-third.
---