Burma's wealth gap breeds discontent
Tales of the junta's extravagances trickle down to average citizens, many of whom lack basic items.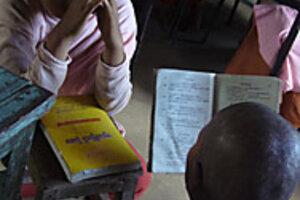 In a country where electricity is available only a few hours a day and those with a job can barely afford the bus ride to work, Burmese pack the teahouses here and gossip about the decadence of the top brass.
"In Rangoon there is complete neglect, but in Naypyidaw everything is good," Min, a construction worker, tells his friends. He asks that only his first name be used for security reasons. Min is referring to the new capital 250 miles north, to which the top generals and their families have relocated and which cost between $122 million and $244 million to build, according to the International Monetary Fund.
"They are building swimming pools and golf courses and very good roads," Min whispers to the others. "They have better Karaoke clubs too ... with dancing girls!"
The gap between the haves and have-nots in Burma (Myanmar) is growing every day. And it's this poverty and inequality, say observers, that fuels the discontent here – perhaps more than any yearning for democracy.
"If [top leader, General] Than Shwe delivered on the economy," argues Robert Rotberg, director of Harvard's Kennedy School Program on Intrastate Conflict and Conflict Resolution, "[then] everyone would agree to wait for democracy. But the junta robs and strips the economy.... Indeed, the junta systematically loots."
---