Olympic torch security row stresses Australian-Chinese ties
Thursday's tour in Canberra saw some fights and a dispute over China's tough "torch attendants."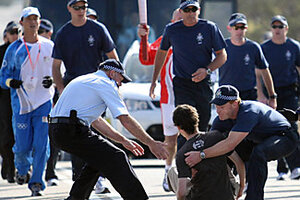 Renee Nowytarger/Reuters
Australia's increasingly close ties with China came under strain Thursday as authorities sought to contain the protesters – and Beijing's aggressive "torch attendants" – during the Australian leg of the Olympic torch relay.
Scuffles broke out between Tibetans and Chinese as the torch was carried through the streets of the capital, Canberra. Rowdy anti-China demonstrations in Europe and the United States earlier this month have been followed by several calmer stops.
But here, hundreds of Tibetans carrying placards reading "Flame of Shame" and "Don't Torch Tibet" exchanged angry words with an estimated 10,000 Chinese, many of them students who had been bussed in, reportedly with the involvement of the Chinese Embassy.
Australian and Chinese officials had a public falling out on Wednesday over the role of the now infamous blue tracksuited "torch attendants" who were labeled "thugs" for their rough behavior during the London leg of the torch relay.
At a press conference on the eve of the relay, Chinese spokesman Qu Yingpu said the attendants could take matters into their own hands if a torchbearer was threatened, "using their bodies to form a kind of defense."
But a furious Jon Stanhope, the chief minister of the Australian Capital Territory, of which Canberra forms the bulk, said the Chinese officials had absolutely no security role to play, telling Australian police to "read the riot act" to the Chinese attendants if they tried to intervene.
---