Whither Asia's pioneers of protest?
Corruption cases against Filipino President Arroyo haven't sparked another 'people power' revolt.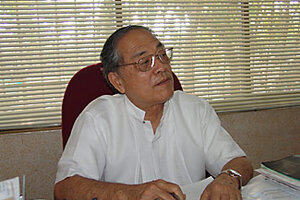 david montero
As President Gloria Macapagal Arroyo found herself engulfed in a kickback scandal in February, she received a delegation of 40 priests at the Presidential Palace.
On the face of it, the sight was familiar: Corruption brought priests – including prominent opposition leader Cardinal Jaime Sin – to the palace doors in 1986, where they led thousands of citizens in toppling Ferdinand Marcos, one of Asia's longest-ruling strongmen. Their People Power Revolution inspired democratic outbursts around the world. Filipinos did it again in 2001, with Cardinal Sin again leading thousands to force out President Joseph Estrada – and put Ms. Arroyo in.
But the priests who turned up at Arroyo's door in February came not to protest, but to offer a prayer in support.
The move shocked many in the Philippines, and critics say it underlined a dramatic change: Arroyo has divided the Catholic church here more than at any other time in its history, blunting its moral authority as a force of opposition to government corruption. That is a central reason why, despite repeated outcries for the president's resignation, a "people power" revolution has not materialized again.
---