Olympic torch to scale Everest amid tight security
The Chinese have closely guarded their plan to carry the Olympic flame to the top of the world's highest mountain.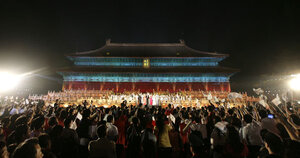 The Olympic torch tour is scheduled to stop atop Mt. Everest early this month. Following protests that have followed the Beijing Olympic flame in Paris; Canberra, Australia; Seoul, South Korea; and elsewhere, tight security is accompanying the planned trip to the peak.
The flame could reach the summit as early as this weekend or early next week. Already, one American climber, who has been carrying a pro-Tibet flag, was kicked off the mountain and heavy security is reportedly enforcing the no-climb rule in effect from May 1 to May 10 in Nepal, which, like China, controls access to part of the mountain. Nepal's forces have reportedly been urged to shoot at protesters.
On Thursday, the Associated Press reported that a human rights group had called on Nepal's government for a revocation of those orders to shoot.
New York-based Human Rights Watch said in a statement that it had written to Nepal's Prime Minister Girija Prasad Koirala asking him "to immediately rescind these orders ... and do not employ unnecessary or excessive use of force against protesters in Nepal."
---