Chinese President Hu's visit to Japan boosts warming trend
Hu Jintao will play ping-pong and talk pandas and energy. The visit comes as strains over interpretations of history appear to be easing.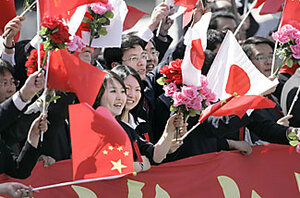 Koji Sasahara/AP
As Hu Jintao begins only the second visit ever to Japan by a Chinese president, he's likely to find a government eager for warmer relations and a public equally eager to show concern about China's imports, human rights record, and nationalistic ambitions.
Mr. Hu's trip comes as the two countries try to move beyond lingering tensions over former Prime Minister Junichiro Koizumi's visits to the Yasukuni war shrine in Tokyo, and past anti-Japanese riots in Shanghai and soccer violence in Beijing. This week, Tokyo hopes to sign accords on global warming, resolve disputes over oil and gas in the East China Sea, and boost the ruling party's dismal 20 percent approval rating.
During his five-day trip, which started Tuesday, Hu is expected to meet Japanese Emperor Akihito, and play ping-pong and hold summit talks with Japanese Prime Minister Yasuo Fukuda, who visited Beijing in December. Hu is scheduled to speak at Waseda University in Tokyo, visit a Chinese school in Yokohama, and perhaps offer a new panda to replace the long-beloved Ling Ling, who died last week.
---