Are Burma's aid delays discriminatory?
Minority groups, uch as the Karen, inhabit much of the cyclone-hit Irrawaddy Delta.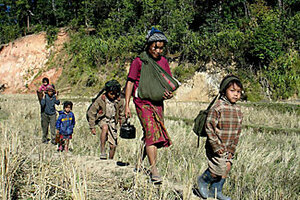 Free Burma Rangers, HO
Myawaddy, Burma; and Mae Sot, Thailand
Since 1949, the Burmese military has waged a war in the east against mainly Christian Karen ethnic minorities, who for centuries have also inhabited the country's Irrawaddy Delta.
Today, Karen leaders and aid workers fear that the 60-year old conflict may be part of the reason the government of Burma (Myanmar) is aiding some people and not others in the southern region devastated by the May 3 cyclone Nargis, where Karens make up an estimated half of the population.
"[Ethnicity] is one of the reasons why the government is blocking international aid from entering the delta. It's already 10 days now," says David Tharckabaw, secretary-general of the Karen National Union, a political group with a military wing based in Mae Sot, a Thai town at the Burmese border. "Many Karens are fishermen or farmers living in the worst storm-hit areas."
Human rights workers cite unconfirmed reports that friends and family have been separated by boatmen evacuating ethnic Burmans from the Delta while leaving Karens behind.
---