Prodding Burma's (Myanmar's) neighbors
Western states want Asian nations to pressure Burma to accept help.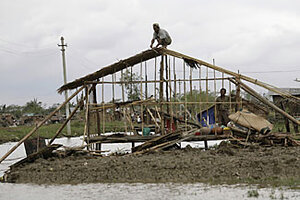 Reuters
Officers in crisp longyis stare incredulously at a Westerner walking into the police station. One calls for backup from senior government officials.
Asked how foreigners can help the Burmese, they seem offended. "Why do you think we need your help?" asks one. "We warmly welcome the supplies from your country. We can take care of our country by ourselves."
In a state where officials lack authority and mistrust Westerners, it's not easy to plug in aid workers from Western nations that have sought to isolate the regime.
Amid warnings of another storm, pressure is mounting on Southeast Asian nations, which have come under fire for failing to prod the country to better respond to the disaster. Western countries and aid groups hope Burma's neighbors will be more able to open the door.
"If the Burmese government is going to listen to anybody, they're going to be most receptive to ASEAN," says Ian Rodgers, an adviser with Save the Children in Washington. "I actually think that if anything is going to work, then this is it. It won't work at the speed at which we want it to work."
Thailand was one of the first countries to begin delivering aid after cyclone Nargis hit on May 3, killing about 100,000 and affecting up to 2.5 million more. Other neighbors have also contributed.
---