Asian, apolitical NGOs get better access in Burma (Myanmar)
The Taiwanese Tzu Chi Foundation says it has sent 15 workers into Burma and won permission to set up a distribution center in Rangoon.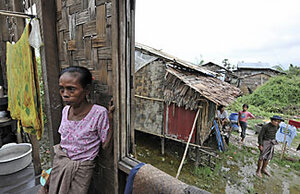 Reuters
As the United Nations and Western aid agencies grapple with Burma's refusal to allow unfettered access to as many as 2.5 million cyclone victims, help is quietly arriving from Taiwan. Its lack of political stakes in Burma (Myanmar) and the vibrancy of its civil society have smoothed a path into Burma for its Buddhist charities.
"They trust us as a friendly group. They know we're going there to help, not to hurt. Friendship and trust is the only way," says Shen Xian-Long, secretary of International Headquarters Search and Rescue Taiwan (IHSRT), which joined the first Taiwanese aid mission to Burma.
With Burma refusing to allow in Western relief specialists and blocking non-Burmese staff from reaching the afflicted Irrawaddy Delta, any aid from Asian NGOs that gets through is much needed, say aid organizations in Burma.
A UN official said Wednesday that Burma had agreed to issue visas to 160 relief workers from neighboring India, Bangladesh, Thailand, and China – but not other countries, underscoring the regime's deep suspicion of Western powers that have been pushing hardest for humanitarian access.
Residents in Rangoon, Burma's largest city and former capital, have also been trying to organize their own deliveries along with Buddhist monks and entrepreneurs, amid frustration over the lackluster Burmese military response.
---