After quake, China's migrant workers rush home
Laborers from across the country have returned to their native Sichuan Province, where many elderly Chinese have refused to leave devastated – and still at risk – villages.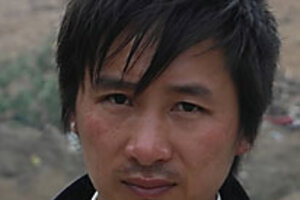 Peter Ford
Mu Guangchan's mother, a wiry 70-year-old widow who farms corn in the mountains of Sichuan, is a self-reliant sort. So when the May 12 earthquake destroyed her village home she built herself a shelter and sat tight.
Mr. Mu, a migrant worker on a construction site in Beijing, 1,300 miles away, guessed that's what she would do. So he got on a train to go fetch her.
"She's stubborn," Mu said, as he and his mother, after a walk of several hours across mudslides, reached the road that would take them to a relief center. "And there are other old people in her village who won't come down unless their children come to get them."
From the mountains around Beichuan, one of the regions worst affected by the quake that officials said Monday has killed at least 34,073 people, villagers were still arriving at reception points in this devastated southwestern province. Untold numbers of migrant workers across the country, meanwhile, were flooding back to their homes to seek and care for their families.
Not all of them were as successful as Mu. Zhou Yi stood at the edge of this devastated village looking up to where his parents' home had stood. All he saw was a massive wall of earth where the mountain had sheared away.
Indeed, mudslides still pose great risks in the earthquake zone and as of Monday have buried more than 200 relief workers over the past three days, according to Xinhua, China's news agency.
Zhou had traveled in a bus for two days with 45 other Sichuan men employed at the same coal mine in Shaanxi Province where he works, he said. He still hoped his parents might be trapped higher up the mountain – he clutched a white plastic bag full of water and biscuits he had brought for them; but his brother had searched the peaks fruitlessly the day before.
---