One athlete's story of competing in his country's first Olympics
Roman Cress, a junior-high assistant in Minnesota, will compete for his native Marshall Islands in Beijing – part of a five-member team the nation is fielding for its first Games.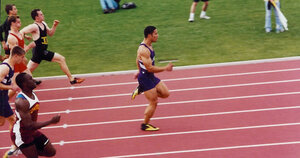 Courtesy of Roman Cress
It was 4:30 p.m. on a still chilly Minnesota May afternoon as Roman Cress raced into the college gymnasium. The squeak of sneakers from pickup basketball games filled the air.Mr. Cress had toiled all day as an administrative assistant to a junior-high-school assistant principal, dealing, mostly, with disciplinary issues. Now, after navigating the beginnings of Twin Cities rush-hour traffic from the suburban school to the tiny Concordia University campus in St. Paul, Cress stripped down to a tank top and shorts. He pulled his running shoes from his well-worn blue equipment bag, placed his iPod buds in his ears, and began working out for ... the Olympics.
Yep, those Olympics, the Beijing Games, the real ones, set to start on August 8.
Were Cress pondering trying out for the US Olympic team, his chances would be as remote as, well, the Marshall Islands, 6,300 miles away from Minnesota. But because he was born on the island of Kaven in the Marshalls to a Marshallese mother and spent a full 10 months of his life there, Cress is guaranteed a start in the 100-meter preliminary heats in Beijing.
---