World's top envoy entreats Burma (Myanmar)
United Nations chief Ban Ki Moon arrived Thursday and hopes to meet Burma's leader Gen. Than Shwe today.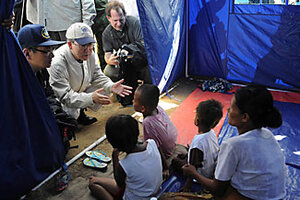 STAN HONDA/REUTERS
United Nations Secretary-General Ban Ki Moon flew into Burma's (Myanmar's) disaster zone Thursday, in a visit that could be a tipping point for international attempts to deal with Burma's reclusive military, which has shunned most world leaders since taking power in 1962.
Mr. Ban met with Burmese Prime Minister Thein Sein for 90 minutes in Rangoon (Yangon), and also with the heads of international aid agencies seeking permission to deliver aid directly to desperate survivors in remote coastal areas of the Irrawaddy Delta.
"The United Nations and all the international community stand ready to help to overcome the tragedy," Ban said after his arrival. "The main purpose of my being here is to demonstrate my solidarity."
The success of Ban's mission will largely depend on whether he can meet reclusive Senior Gen. Than Shwe on Friday in his new capital, Naypyitaw. Such a meeting would vindicate efforts by the UN and Asian leaders to rely on diplomatic avenues to pry open doors to much-needed aid and relief workers. A rebuff could cloud prospects for an international aid conference, planned for Sunday in Rangoon, and embolden calls, mainly from Europe, to deliver aid by force from four US warships and others from France and Britain waiting off Burma's southern coast. It could also further anger Burmese citizens squeezed by skyrocketing prices and military crackdowns since monk-led protests last September.
---