Amid aid delays, locals in Burma (Myanmar) rebuild
Cyclone victims are rebuilding homes and collecting rainwater as foreign aid workers slowly spread out.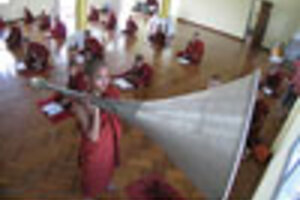 AP
Flying home, Burmese sailors are awestruck when they see the Irrawaddy Delta below them. Four weeks after cyclone Nargis hit, much of the delta is still underwater, a murky inland sea of swollen rivers and flooded fields, dotted with soggy clumps of thatch and bamboo that used to be villages teeming with children and water buffaloes.
But then hope emerges: Workers are carving out a second strip at the sparkling new Mingaladon airport, where immigration officers stamp in planeloads of foreign aid workers and Burmese are returning home with handy tools such as electric chain saws.
A small number of foreign relief experts have been allowed into the delta in the past few days. Steve Goudswaard, an expert in responding quickly to disasters and assessing immediate needs, was the first foreigner from World Vision to venture into the delta, which has been off limits to most foreign aid workers until recently. He says it took him almost a week after United Nations chief Ban Ki Moon's historic visit with Burma's leader, Senior Gen. Than Shwe, to finally get government permission to go beyond Rangoon, as local officials in the delta interpret the policy in their own ways.
---