Before Beijing, these moms are already Olympians
Eighteen women, from 30-something judoka Valerie Gotay to hurdler and mother of infant twins LaShinda Demus, have managed to combine motherhood with top-level training and competition.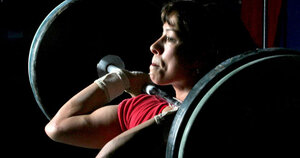 Ellen M. Banner/The Seattle Times/AP
There was a moment when Valerie Gotay realized that, amid all her meticulous preparations for the Beijing Olympics, something had gone wrong.For six months, she had thought that the life she lived at home in San Diego could continue at the national judo training center in Brownsville, Texas: Her two daughters could come with her, and she could go on home-schooling them as she always had.
But in the end, she could not – and making the decision she had so desperately wanted to avoid, she sent her girls back to her husband in California.
"This was not the life I wanted for them," says Ms. Gotay, who will compete in the US Olympic trials for judo on June 14.
She is one of 18 mothers with their eye on competing in Beijing – from hurdler LaShinda Demus, whose schedule juggling infant twins is so hectic that she sometimes forgets to eat, to weight lifter Melanie Roach, who sees squatting hundreds of pounds of iron as a refreshing break from the responsibilities of the rest of her life.
For Gotay, however, the days since her daughters Breanna and Isabella left Texas nearly a year and a half ago have unspooled as a different test of character from any she has learned from a mat or a match-ending chokehold.
"Sometimes I think I am weakened mentally and emotionally" as a competitor by being a mother, says Gotay, who has not been back to see her family in San Diego since January. "But it also strengthens you – to fight for your kids, for all your sacrifices."
---