Tighter Australia-China ties worry Asian neighbors
India and Japan are wary as political, economic links strengthen amid a mining boom.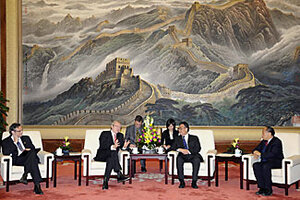 Takanori Sekine/REUTERS
It is a match made in heaven – China's ravenous appetite for raw materials and the billions of dollars' worth of minerals lurking beneath the rust-red dirt of Australia's vast outback.
Australians are growing rich, in large part because of the Chinese economic juggernaut, which has sent property prices soaring, propelled the stock exchange to new heights, and plunged unemployment to its lowest level in more than 30 years.
But as economic and political ties between Canberra and Beijing strengthen on the back of the mining boom, alarm bells are ringing across other parts of Asia. India and Japan, in particular, feel that the Australians are paying far too much attention to China. Japan is acutely aware that last year it was eclipsed by China as Australia's top trading partner. And while Australia had strong trading ties with China under former Prime Minister John Howard, ties have ratcheted up under Kevin Rudd, the only Western leader who speaks fluent Mandarin.
An Australian announcement earlier this month that it was unilaterally abolishing a quadrilateral security dialogue with the United States, India, and Japan, went down badly in New Delhi and Tokyo.
---