Japan's Ainu hope new identity leads to more rights
Japan's parliament identified the group as the country's indigenous people on Friday.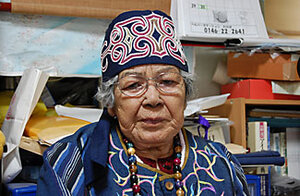 Takehiko Kambayashi
While Friday's parliamentary decision to recognize the ethnic Ainu as Japan's indigenous people is a major step for a country long proud of being ethnically homogeneous, for many members of the long-discriminated-against minority it's not enough.
"I'm glad to learn the resolution," says Saki Toyama, an 80-year-old Ainu woman who lives in Urakawa, a serene outpost in Hokkaido, the northern island that the ethnic group had dominated for centuries. "But I'd also like the government to apologize and make way for the sake of the Ainu people."
The Japanese government established a development commission on the island in 1869, which led to the migration of Japanese and the island's acquisition. That was followed by the forced assimilation and relocation of the group. The Ainu were also banned from practicing certain traditions, including men wearing earrings and women getting tattooed, and they were forced to learn the Japanese language and adopt a Japanese name.
"When I think of having been treated like trash and discriminated against because of our ethnicity, I feel like screaming at the sky," says Ms. Toyama.
"You see so many place-names on this land are from the Ainu language," says Koji Yuki, a secretary-general of the upcoming Indigenous Peoples Summit in Ainu Mosir. The government "had better come clean."
Local government estimates show that 23,782 Ainu people remain in Hokkaido, while Ainu leaders and experts argue the number could be much larger because of those who are believed to hide their identity for fear of discrimination or who may have left the island.
"Japan modernized itself while denying its diversity and multiculturalism. However, the nation, which aspires to a permanent seat on the United Nations Security Council, has already risen to an international stage where they have to acknowledge it," says Hideaki Uemura, a professor and expert of indigenous people's rights at Keisen University, and director of Citizens' Center for Diplomacy.
---