In Burma (Myanmar), how many cyclone orphans?
Aid groups are trying to curb child labor and reconnect families – without the help of surnames.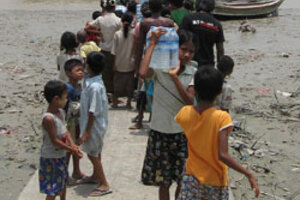 AP
Like thousands of orphans, Jo Jo was fit enough to survive last month's cyclone Nargis.
Sheltered now by church members in Rangoon, the main city in Burma (Myanmar), he faces more challenges: finding his parents even though, like most Burmese, he has no surname; and surviving in a society where children are widely considered a source of cheap labor.
"The price of everything these days is rising, except one thing – the price of life," says a Burmese celebrity who has been quietly bringing aid to villages in the delta. "Cheapest of all is the cost of children."
In a working-class area of central Rangoon, children pump gas, fix generators, sell fruit, serve tea, cook food, clean monasteries.
Across the country, kids steer coconut boats loaded with contraband or fight in ethnic wars in the jungle. Most have at most four years of schooling. Almost every mom-and-pop business employs children for less than a dollar a day.
While some seem happy to be working with parents or relatives, many have been bought and sold.
"Trafficking has always been big in this region. That needs to be addressed very quickly," says Marvin Parvez, a development activist who has been working with several aid agencies in Burma. "Delta children were the poorest of the poor to begin with. They had food shortages in the delta area before the cyclone. The cyclone put them back at least one century."
"Families are desperate now, so sometimes they sacrifice their daughters or sons. Children are very vulnerable at this time," he continues.
Many hurdles in reuniting families
---