Burma's (Myanmar's) elite help with aid
Business leaders, some under US sanction, are delivering relief supplies.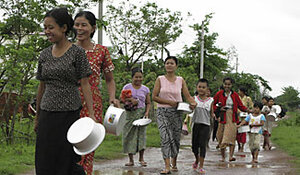 AP
While international aid groups and world leaders have been clamoring for greater access or accusing the government of Burma (Myanmar) of neglecting cyclone victims, the junta has effectively parceled out areas of the disaster zone to the country's corporate leaders.
They are a "who's who" of Burma's business class: powerful execs with close ties to the ruling military junta, some of them under Western sanctions for that reason.
Despite those connections – indeed, because they have enabled these men to distribute badly needed relief – foreign aid workers in Burma, their own efforts inhibited by the junta, are partnering with these businessmen-turned-relief workers.
Andrew Kirkwood, Burma director for Save the Children, has been sharing boats and distribution networks in the hard-hit Irrawaddy Delta with corporate-relief volunteers from Serge Pun Associates.
"They've been doing a lot of good things. They have a lot of assets, and they've been putting it to good use," he says. "We've been coordinating at various levels to reach as many people as possible."
Burma's power class
A week after the May 2-3 cyclone Nargis left an estimated 134,000 dead or missing and 2.4 million more affected, the government put out a call asking business leaders to volunteer for relief operations, says James Kong, a Hong Kong-based surgeon and former head of Rangoon's Pun Hlaing International Hospital, who has returned to help his native Burma.
---