South Korea's beef protests: Lee's woes deepen
The cabinet offered to resign June 10 amid weeks of protest against a US beef trade deal.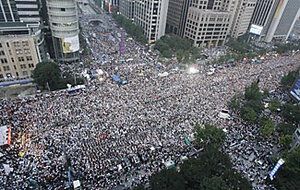 Lee Jae-Won
The government of President Lee Myung Bak was plunged into crisis Tuesday, 3 1/2 months after he took office in a landslide win.
His entire cabinet offered to resign in the morning, and about 200,000 protesters staged a candlelight demonstration in the evening, holding banners, waving signs, and chanting slogans targeting the agreement his government reached in April to resume importing American beef.
Protesters accuse Mr. Lee of risking the health of Koreans in his eagerness to please the United States and push through a free trade agreement.
But the size and scope of the protest dramatizes problems that go far beyond that of simply beef.
The protests reflect discontent with "a lot of national issues," including high unemployment, education, and the economy, says Moon Kook Hyun, who campaigned for president on his own minority party and then was elected to the National Assembly. "The people are so disappointed. They have no other way to express themselves."
"Thousands of students are here to protest his educational policy," says a teacher, Kim Haeng Suu, accompanying other teachers and students from a nearby school. "The students say they have no voice in the system, and he only cares about education for the rich people."
South Korea excluded US beef five years ago after the discovery of mad cow disease in a single American cow, and US officials fervently deny any chance of the disease spreading to people. A Korean negotiating team has arrived in Washington, calling on the US to go along with a "voluntary" arrangement that will bar the export of US beef from cows more than 30 months old.
None of the protesters, however, appears willing to trust such a revision of the beef deal. Instead they castigate Lee and his ministers and advisers for the arrogance they perceive in his support of the chaebol, or conglomerates, which dominate the Korean economy and to appointments of rich and sell-connected favorites to high positions.
---