One man helps Cambodia rebuild trust
A former monk trains volunteers to resolve disputes that might otherwise turn violent.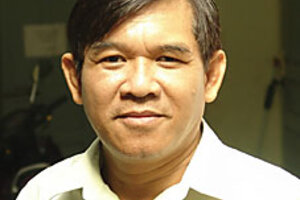 David Montero
A timeless problem nearly ruined the Buar Sramum's marriage: Her husband, a fish seller, doesn't make enough money, and the money he makes he often mismanages, making it even harder in this impoverished village to feed the couple's three children. When Mrs. Sramum berated her husband, things got heated, and they argued bitterly for weeks.
Disputes like this are rarely discussed publicly in Cambodia, but they are a common cause of domestic abuse. They are also one strand in a larger set of village conflicts contributing to human rights violations and violence in Cambodia's countryside, including land disputes, petty crimes, and conflicts over resources such as water and cattle.
Central to the problem is that there is often nowhere to go for help: Decades of war and poverty have left Cambodia's legal system in disarray. Courts are often too far away or too expensive for the rural poor.
But the Sramums – like thousands of others – didn't become another statistic, thanks to Monychenda Heng, a former Buddhist monk who is helping to restore two of the most precious resources Cambodia lost in the devastating years of the Khmer Rouge: trust and hope.
Since 2002, Mr. Heng's organization, Buddhism for Development, has pioneered the concept of dispute resolution committees in seven northwestern provinces. The committees – which include five to nine members culled from the community, including two seats mandated for women – listen to both sides of a dispute. Then they offer advice, usually free of charge, sometimes at a nominal fee of about 50 cents.
The results are radical – not necessarily for the advice given, but for the fact that poor people like Mrs. Sramum can seek mediation at all.
---