Burma (Myanmar) boots medics, citing no need
Authorities have ordered Asian doctors in the cyclone-hit south home. The urgent need is for volunteers who bring basic care to far-flung villages, some aid workers say.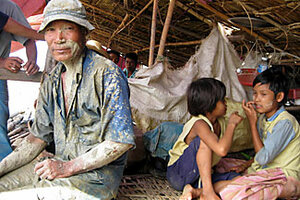 ap
Having led Thailand's first medical mission last month to cyclone-ravaged Burma (Myanmar), Pichit Siriwan, a doctor, was on standby for another two-week tour. But last week he got word that Burmese authorities no longer needed the services of his 30-person team.
The notice came as part of a broad drawdown of Asian medics in the disaster zone – another entry, perhaps, in the ledger of international outrage against a junta whose deep suspicion of foreign influence has slowed aid efforts since a May 2-3 cyclone killed tens of thousands of people.
For weeks, aid agencies have warned of the threat of disease to survivors and called for greater international assistance in affected areas, which are under tight military control.
But another explanation for the exodus of Asian doctors, whose primary role was in temporary camps, may be the shifting nature of the disaster.
As more people return to their shattered communities, aid workers are trying to put in place village-level systems that can offer preventive primary care and screen the population for any epidemic outbreaks.
These rely more on local volunteers and mobile clinics than on hospitals and foreign doctors, who are usually primed to treat trauma patients.
"We were told that we're no longer needed.... I think that they need help, but in the right way," says Dr. Pichit, a physician at Chulalongkorn Hospital in Bangkok and a member of the Thai Red Cross.
---
Follow Stories Like This
Get the Monitor stories you care about delivered to your inbox.