Superstitions fly as Chinese reel from a bad (luck) year
People are rethinking lucky numbers and buying up canned peaches thought to ward off harm, in light of China's recent earthquake, train crash, and Tibet protests.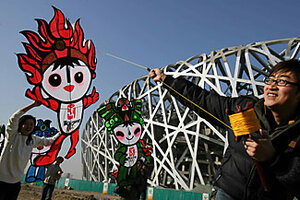 Newscom
With China's government leaving nothing to chance at this summer's Olympics, it is by no means a coincidence that the Games will begin at eight minutes past 8 on the evening of the eighth day of the eighth month of the year 2008.
Eight, you might have guessed, is a lucky number in China, for the simple, if mundane, reason that in Mandarin the word for that digit, "ba," sounds like the word "fa," which means "fortune."
That kind of superstitious thinking would have earned you stiff punishment not many years ago in China, where the Communist authorities have spent decades trying to root out "feudal thought." But it still runs deep in the popular mind, and Beijing knows it.
"It's not that the government believes this, but it had to choose a date, so why not respect the people's feelings?" explains Xia Xueluan, a sociologist at Peking University. "Everyone believes eight is a lucky number." Courting popular sentiment in this fashion, however, could be risky, in the wake of the Sichuan earthquake. Just as pervasive in the Chinese psyche as faith in lucky numbers is a belief that natural disasters portend trouble for the country's rulers.
That dates back over 3,000 years, when the king who overthrew China's first recorded dynasty justified his rebellion on the grounds that the ruler he deposed had lost the "mandate of heaven" by ruling poorly.
---