Europe's ardor for Olympic boycott cools
Despite earlier tensions over Tibet, French President Nicolas Sarkozy will attend the opening ceremonies in August.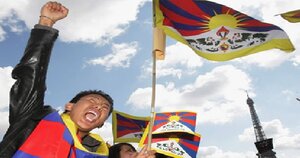 Françcois Durand/Getty Images
This August as world attention turns to the Olympics in Beijing, the Dalai Lama, Tibet's exiled spiritual leader and target of Chinese ire, travels to France.But French President Nicolas Sarkozy now says he will travel to China for the Games – ending speculation that the high-profile European leader might stay home to protest China's handling of Tibet after monks rioted in Lhasa in March.
This spring, Europe briefly looked set to champion the Tibetan cause. Activists in London and Paris nearly doused the Olympic torch as it came through, setting off events that helped dim the Games' luster. Mr. Sarkozy tied his Olympic attendance to talks between Beijing and the Dalai Lama.
But if European officials had any ardor to make Tibet an Olympic issue, it has largely cooled.
Faced with an intense and studied set of pressures by Beijing, with worry over the consequence of China losing face in its première world event, in which it has invested billions, and with a tragic earthquake in Sichuan overshadowing Tibet, talk of protest has been replaced by a sober and pragmatic silence in Europe.
---