For Beijing's Olympic volunteers, the rules are many
It has carefully vetted and trained 1.7 million people who will do everything from answering questions to presenting medals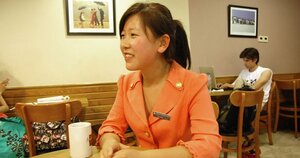 Carol Huang
Ms. Cai, crisp and efficient in her bright blue Olympic volunteer shirt, has a list of instructions to remember.As a helper at one of 550 information booths being wheeled out across Beijing, each one covered with pictures of happy volunteers, she's supposed to match that image, answering tourists' questions with a smile and meeting whatever need arises.
But after each interaction, out comes the red logbook – where Cai, who didn't share her first name, makes a careful tally of hours worked, people helped, papers distributed, and media outlets spoken to.
This isn't your typical volunteer operation, run by independent groups working to improve a local school or save old homes from developers' bulldozers. This is volunteerism Beijing 2008 style – managed rigorously by the state and for the state.
"The government has its own structure to organize volunteers [and] prefers such ways rather than to let the volunteers organize themselves," says Jia Xijin, deputy director of the NGO Research Center at Beijing's Tsinghua University.
As volunteer efforts have sprouted in recent years, the Chinese government has encouraged a "volunteer spirit" – but not nongovernmental organizations.
To be considered legal, NGOs must register with and essentially be run by the government. The government sometimes partners with nonregistered groups, but in limited scope. In its eyes, NGOs should be "assistants to the government in social-service providing," says Professor Jia.
---