America's other Olympians may win gold, not big glory
Athletes outside the most popular events – gymnastics, track and field, and swimming – win about one third of America's Olympic medals.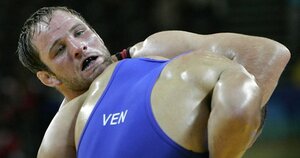 Silvia Izquierdo/AP/File
Brad Vering is not likely to appear on any Olympics collectors cups. He might frighten the children.
On the wrestling mat, he is a mastodon, woolly, bearded, and massive. But as much as any statuesque sprinter or spring-limbed gymnast, he is one of America's top medal hopefuls.
A year ago, he led America's unheralded Greco-Roman wrestling team to the most improbable achievement in its history – a world team title, the United States' first. The women's eight rowing team was also world champions, though in its case for the second year running. Meanwhile, Steven Lopez has not lost a tae kwon do contest since 2000.
They are among America's Other Olympians, exceptional yet often overlooked beside those from the Big Three – gymnastics, swimming, and track and field. They are, however, in some respects the key to American success in Beijing. With few more medals to wring from its core sports, America's supporting cast could be decisive in attempting to counter China's charge to the top of the gold medal table.
In 2004, it provided 38 of America's 102 medals. That ratio has been relatively constant over the years, with sports outside the Big Three accounting for about one-third of America's Olympic medals. Results from recent world championships suggest the trend will hold true in Beijing.
---