In Cambodia vote, stability wins
Prime Minister Hun Sen, who has ruled for 23 years, won another five-year term Sunday. His party has overseen several prosperous years; critics say it stifles democracy.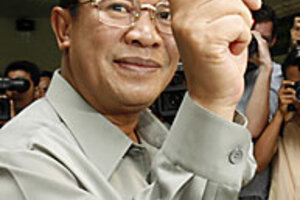 Chor Sokunthea/Reuters
Election official Ven Serey Sophon has participated in six elections in Cambodia, and none more peaceful than this one. "I think it's better [this year]. The people have experience in Cambodia about elections," says Mr. Sophon.
If the day was peaceful, it was also predictable, with the ruling Cambodia People's Party (CPP) clinching 73 percent of all votes, according to electoral authorities. Some 10,000 international observers reported few irregularities, and voter turnout was high, at 75 percent.
It is an achievement that confounds some analysts: Cambodia's elections, first instituted in 1993, have grown more peaceful over the years. But they have also served to bolster the 23-year rule of Prime Minister Hun Sen, who is considered a fulcrum of economic stability but an obstacle to the full flowering of democracy, including political dissent and freedom of expression.
Critics accuse him of using harassment, payoffs, and violence as a tool to silence the opposition – accusations the ruling party denies. And yet, Cambodia has never been more stable or more prosperous.
Sunday's elections epitomize a debate grappled with across much of the developing world: After decades of war and civil strife, is stability more important than a thriving democracy?
"Democracy here in Asia – you don't care about the content of democracy. You care about economic performance first. This is different than liberal democracy in the West. If people [here] can eat first, then they think about democracy," says Sedera Kim, an independent political analyst in Phnom Penh, the capital.
---