Why security is tighter in Beijing
Measures include checkpoints around the city and missiles by the Olympic stadium.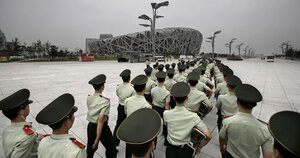 Oded Balilty/AP
From missile batteries around the stadium to neighborhood watches, from SWAT teams to bar closures, from random ID checks to a visa clampdown, Beijing's panoply of security measures outstrips anything ever mounted for the Olympics.
China's efforts reflect more than the government's desire to protect athletes and spectators from terrorists or unruly protesters. The unprecedented drive for control also illustrates how much more broadly China views security than most other countries.
Beijing views "anything that might 'harm China's reputation' as a security threat" says Drew Thompson, a China analyst at the Nixon Center in Washington. "That extends to any group seeking to push an agenda that is not aligned with the government's propaganda."
This means the authorities are determined to block unauthorized demonstrations and public criticism of official policy, which in their view might undermine security, as well as terrorist attacks during the Games.
In an editorial last week, the People's Armed Police News, the official organ of one of the key forces responsible for Olympic security, placed the threats side by side.
"Western anti-China forces are striving for opportunities to disrupt the games," it said. "International terrorist forces are itching to strike ... and hostile domestic forces's disruption and sabotage activities against the Games are steadily unfolding."
---