For Chinese, it's the teflon Olympics
The Beijing Games have been dogged with global criticism on everything from censorship to pollution. But Chinese people still see them as their government does: a great coming-out party.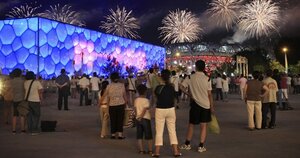 Robert F. Bukaty/AP
Forget the Forbidden City, the Temple of Heaven, or Beijing's other historic sights. The hottest tourist draw today for Chinese visitors to the capital is the Olympic Green, which boasts key competition venues such as the "Bird's Nest" National Stadium and the "Water Cube" swimming pool.
For weeks, special buses have been leaving an Olympic terminal every few minutes, ferrying Beijingers and tourists for a glimpse of the iconic structures. Thousands more thronged the perimeter fence this weekend, snapping pictures and soaking up the pre-Olympic atmosphere in glorious sunshine.
"I feel very emotional about these Games," said Li Chunfeng, a young nurse, as she prepared to walk around the edge of the green, which is as close as the public can get to the venues. "China has suffered in history, and this is a moment of glory."
While the Chinese government fends off criticism from abroad about its human rights record, its foreign policy, and Beijing's air quality, Chinese people appear overwhelmingly proud and excited about the Olympic Games that open here next Friday.
"This is going to be the biggest festival ever in China," said Qi Jianlan, as she finished taking photos of her husband with the stadium in the far distance. "It's going to be even more 're nao' than the New Year," she added, using the phrase Chinese use to describe their favorite atmosphere – "warm and noisy."
---