Philippines' peace accord blocked
The Supreme Court prevented the signing of a territorial accord between the state and MILF, a rebel group, Monday. Opponents had called the deal unconstitutional.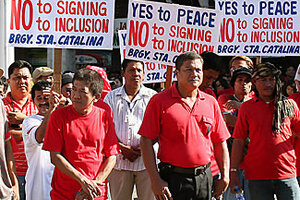 Al Jacinto/AP
The Philippine government was due to sign Tuesday a landmark accord with an Islamic rebel group that would create an expanded Muslim homeland on the southern island of Mindanao. But in an unexpected setback, the Philippine Supreme Court on Monday blocked the signing and ordered a court hearing on Aug. 15 into claims that the proposed deal was unconstitutional.
The pact had been expected to pave the way for the two sides to ink a comprehensive peace deal to end a decades-old insurgency that has stunted economic development on resource-rich Mindanao and incubated lethal terrorist networks across Southeast Asia. The eleventh-hour judicial intervention jolted negotiators from both sides, who had traveled to the Malaysian capital, Kuala Lumpur, for Tuesday's signing ceremony.
"I don't know what will happen next," Mohaqher Iqbal, the chief peace negotiator of the Moro Islamic Liberation Front (MILF), told Reuters.
Opponents had charged that the pact was "ill-advised" and potentially unconstitutional as it involved territorial concessions in Mindanao. Aides to President Gloria Arroyo deny this, saying lawmakers will be asked to legislate on any final legal settlement with the MILF.
---