In medals race, more countries in running
The Olympic Games are entering an era of unprecedented equality among nations.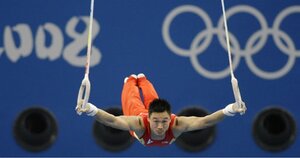 AP
Seventeen days from tonight's opening ceremonies, America's post-Soviet reign atop the Olympic gold-medal table is expected to end – and that could be just the beginning.
Competition is changing more thoroughly than at any time since the collapse of the Soviet Union. China is at the head of a number of countries, from Britain to Australia, significantly ramping up spending.
This Olympics will mark only the start of the trend. China's massive effort to win these Games is just now getting up to speed. It is tipped to win the gold-medal table here. By 2012, it could dominate – following a longstanding trend of great powers vying for Olympic clout that mirrors their diplomatic weight.
Add to this the rise of second-tier nations like Britain, and America will increasingly be squeezed from both ends.
It suggests an era of unprecedented equality among Olympic nations. The days of one nation winning 100 medals – as the US did four years ago in Athens – "might be a part of the past," says Steven Roush, chief of sport performance for the United States Olympic Committee (USOC).
The picture he paints is something like cold-war-lite: Three nations competing at the top of the medal table, but the distance between them and the nations after them increasingly diminished. Russia and the US will repeat their cold-war roles, with China standing in for East Germany and perhaps outstripping them both.
---