Best international players? They're not necessarily in the NBA.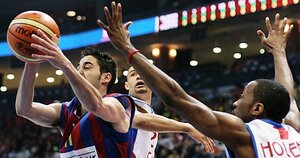 Joe Klamar/AFP/Getty Images
Basketball fans following the Beijing Games will notice that many of the best international players on the court do not compete in the National Basketball Association (NBA) – because they choose not to.
In fact, on Saturday, when the United States Olympic team takes to the court against Spain, their opponents will include Juan Carlos Navarro, who played last year for the Memphis Grizzlies but has since joined FC Barcelona.
More players are flocking to European teams, lured by high salaries, tax breaks, and other perks. While this migration to the continent is largely motivated by a need to ensure financial security, it has increased the competitiveness of European play. Indeed, European leagues are emerging as a viable alternative to the NBA.
"It's the new market," says Luciano Capicchioni, president and CEO of the San Marino-based Interperformances sports agency, which he estimates represents 500 basketball players worldwide. "You have to go where the money is. Players fire you if you don't tell them what's out there."
What's out there, players and their agents have discovered, are increasingly lucrative earnings from European clubs. Fueled by a steady rise in the level of play and an infusion of cash by wealthy team owners, salaries doled out by top European teams are reaching sums once reserved for the continent's top soccer stars.
---